Scuba Diving Malaysia-Pulau Redang
Redang Island is the largest of a group of islands dotting the South China Sea off the Terengganu coast. The island offers crystal clear waters and numerous dive sites for the enthusiast. Sheltered within the Redang Island Marine Park, the waters here abound with marine life.
Redang Island is one of most beautiful island in Malaysia. The island is located East coast of Malaysia. The distance from Merang (Jetty port) to Redang island is approximately 45 minutes jetty ride.
Redang island temperature range from 31 to 34 degrees Celsius in day. With a strong breeze of wind will still keep a cooling circling air to the island. Shining white beach sand with crystal clear light blue sea water give an unforgettable soothing relaxation sensation to people at the Redang island. With beautiful fishes swimming gracefully around the magnificent corals gives an exciting scuba diving or snorkeling activity for the people to watch them.
The adjacent islands of Pulau Pinang, Pulau Ling, Pulau Ekor Tebu, Pulau Kerengga Besar, Pulau Kerengga Kecil, Pulau Paku Besar, Pulau Paku Kecil and Pulau Lima are excellent for snorkeling, swimming and scuba diving. Redang group of islands offer diver's a true underwater haven with more than 25 dive sites, rich with a diversity of marine life. Islands and dive sites are just a few minutes apart and guests can travel between islands by a variety of boats.
Favorite Dives: Big Mount is an oval seamount completely submerge and is located 50 meters towards the northern tip of P. Lima. The shallowest portion of this reef at 20 meters and the boulder terrain drops to 30 meters. Divers has the opportunity to observe macro life forms to possible encounters with the huge clownfish, sea cucumbers, starfishes, stonefish, groupers and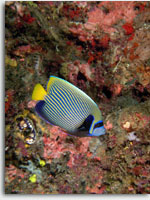 parrotfish.,
Mini Mount. Situated 100 meters east of P. Kerengga Besar, with the deepest portion at about 20 meters. The faces of the boulders are carpeted with a variety of soft corals, tubastrea corals, sea squirts, sponges and stinging hydroids. Popular choice for night dive where divers are rewarded with an abundance of night creatures foraging for food around the reef.
Terumbu Kiri. The rocky seascape is encrusted with both hard and soft corals at about 15 meters, and slopes down to 20 meters at the sandy bottom. Fish life includes cardinal fish, damselfish, chromis, snappers, parrotfish and soldierfish. While in the open water you are likely to encounter jacks, fusiliers, yellowtail, batfish and black tip sharks.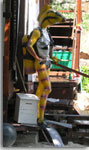 The famous Fish Man of Redang.
Flew in from the United States, retired from many dive shows and exhibition, now reside in Redang Island. Also known as "Chiak Free" Chinese translation from the word Jeffrey, many believe that by donating few cans of beer to "chiak free" will bring good luck! Visiting hours 0900am-0500pm.

Next Tioman Island
Dive sites around Malaysia :[ Sipadan island ][ Mabul ] [ Kapalai ] [Redang Island ] [ Tioman island ] [ Lankayan ] [Semporna island] [ Pulau Dayang/Aur ] [ Tenggol island ] [ Jarak Island ] [ Pulau Langkawi ] [ Layang-Layang ] [ Pulau Kapas ] [ Lang Tengah ]
For more information contact us
Home | Instructors | Dive Courses | Dive sites | Go Pro | Equipment | Fish ID | News & events | Photo Gallery | Dive trips | PADI Tec-Rec | Resources