Scuba Diving-PADI Dive Courses
"Scuba diving, relaxing, action-packed, tranquil, adrenaline pumping, adventurous- this is diving is all about and more..." Learn with the best!
Can you imagine Scuba diving in crystal Clearwater, surrounded by brightly colored fishes and coral, you and your buddy put on your dive equipment to enter the warm water and explore the abundance of marine life...all the while hovering weightlessly like an astronaut.... It's a different kind of pressure, the kind of pressure you'll want more! Don't keep thinking...begin your adventure now in Malaysia's best diving sites with us!
Diving is FUN, and so is learning to dive, but scuba education requires serious commitment from both the instructor and student diver. That's because the joy of discovering the beauty and mystery of the aquatic realm is entirely dependent on safe use of underwater life support system.
So while you may find cheaper, easier and quicker courses, you
will not find a thorough, more responsible and more effective diver training than the scuba training programs offered by Scuba-Diving Malaysia. All courses include New PADI Crew Pack yours to keep as required by PADI Standards, use of equipment and latest PADI learning aids. One-on-one instruction and discount for group of three or more. Online learning is also available, we'll send you your crew pack and you can start learning at your own pace prior to meeting your instructor, this will allow you to get straight into diving with your Instructor! Contact us for online-learning.
---
[Discover Scuba Diving ] [PADI Scuba Diver ] [PADI Open Water Diver Course ] [ Adventure Diver ] [ Advance Open Water Diver ] [ Emergency First Response] [ Rescue Diver Course ] [ PADI Master Scuba Diver ] [ PADI Divemaster ] [PADI Assistant Instructor]
---
Discover Scuba Diving
Discover Scuba Diving let you experience the trill of diving under the supervision of your scuba instructor in a pool like conditions. During your scuba adventure, you will be introduced some basic concepts and scuba skills and might even head off with an open water dive adventure!
Why Discover Scuba Diving? As soon as you complete Discover Scuba Diving, you are on your way to an internationally recognized certification. That's because you may learned skills from PADI Open Water Diver course during your DSD adventure. If you and your Instructor elect to practice these skills, they may be credited to PADI Scuba Diver or Open Water Diver certifications.
What do I need to start?
Minimum age 10 - 8 for Bubblemaker, complete and sign Discover Scuba Diving statement.
Cost RM150.00

back to top
---

PADI Scuba Diver
PADI Scuba Diver is a part certification providing the basic knowledge needed to enter the exciting world of diving. The duration of the course is 2-3 days and ensures good mix of fun and learning. Time is spending practicing scuba skills and exploring the excitement of diving in open water. As a certified PADI Scuba Diver you can then dive, accompanied by a diving professional, to a depth of 12 meters in over 180 countries around the world. If you are already a PADI Scuba Diver then you are able to continue your education by taking the final parts of Open Water Scuba Diver Course
Cost RM700.00

back to top
---

PADI Open Water Diver
The PADI Open Water Diver course is your passport to the world of scuba diving. PADI certification is accepted worldwide. This is first certification level and can serve as a step-up to many types of exciting and adventurous types of diving!
Throughout the course, you'll learn fundamentals of scuba diving,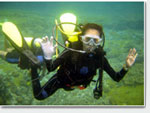 including dive equipment and techniques. You will also earn a PADI Open Water Diver certification that is recognized worldwide. You earn this rating by completing five confined water dives and knowledge development sessions and by making four open water dives.

Virtually anyone who is in good health, reasonably fit, and comfortable in the water can earn a PADI Open Water Diver certification. During your course, your PADI Instructor will ask you to demonstrate the ability to swim 200 meters/yards without swim aids or 300 meters/yards with mask, fins and snorkel and complete paperwork, to get you on your way to Scuba. If you are between 10 and 14 or have a child between these ages, there's a PADI Junior Open Water Diver program available.
Cost RM950.00

back to top
---

PADI Adventure / Specialty Diver
ADVENTURE DIVER program is the perfect opportunity to gain additional experience and skills under the guidance of a PADI professional. To become a PADI Adventure Diver you need your PADI Open Water Certification (or equivalent) and the desire to experience thrilling adventures. In-water performance based program includes a total of three dives from the list below:
Night Diver

Peak Performance Buoyancy

Divers Propulsion Vehicle (DPV) Diver

Multi-Level/Computer Diver

Deep Diver

Search and Recover Diver

Underwater Naturalist Diver

Underwater Navigation

Underwater Photography

Enriched Air Nitrox Diver
If you're 15 or older, and a PADI Open Water Diver or equivalent, then you're ready for the Adventure Diver program. Or, if you're a PADI Junior Open Water Diver or equivalent and between the ages of 12-14, there's the PADI Junior Adventure Diver program.

After successfully completing the program, you'll receive the PADI Adventure Diver certification. Now, take the next step! Complete two more adventure dives (must include deep and navigation) and become a PADI Advanced Open Water Diver.
Please contact us for advice regarding specialties, remembering that you would have taken certain specialty dives already in your Adventure and PADI Advanced Open Water Course.
Cost RM Varies

back to top
---

PADI Advanced Open Water Diver
Advanced Open Water Diver course is made up of 5 Scuba dives over 2 days, two compulsory dives (deep and navigation), plus three further dives of your choice.
Deep Dive
Broadens your knowledge of both the advantages and disadvantages of diving the deeper sites. This is the chance to study a larger variety of marine life and also educates on further safety issues.

Navigation Dive
Will introduce you to natural navigation, allowing you to calculate distances and boat location.
The options for the three further dives include a night dive (highly recommended!), naturalist, peak performance buoyancy, search & recovery or even an under water photography dive and Enriched Air Nitrox dive!
If you're 15 or older, and a PADI Open Water Diver or equivalent, then you're ready for the Advanced Open Water Diver program. Or, if you're a PADI Junior Open Water Diver or equivalent and between the ages of 12-14, there's the PADI Junior Advanced Open Water Diver program.

After successfully completing the course, you'll receive the PADI

Advanced Open Water Diver certification. This allows you to participate in more advanced diving activities with a maximum recommended depth limit of 30 meters/100 feet, in addition to the qualifications listed for PADI Open Water Divers.

What does this program offer you? New experiences, new skills, lots of diving and thrilling adventures! So take your Scuba diving to new limits with us in Malaysia!
Cost RM800.00

back to top
---

Emergency First Response (EFR/CFC)
One of the most useful courses you can have the pleasure to learn. PADI EFR is an internationally recognized medical certificate. Want to be ready in an emergency? Then this program is for you! The Emergency First Response program covers basic training for cardiopulmonary resuscitation (CPR) and emergency care. In addition, it's a medically based program covering primary care, secondary care and treatments following national consensus guidelines.
Primary Assessment
Half-day course which will teach you how to handle life-threatening emergencies/injuries and the usage of the AED (Automatic External Defibrillator).

Secondary Assessment
Half-day course that teaches you how to handle non-life threatening emergencies/injuries. So if you're seeking CPR/first aid training to meet a diving program requirement or for personal enhancement, especially family with children this program is for you.
Cost RM500.00 - Care for Children RM500

back to top
---

PADI Rescue Diver Course
The best buddy any diver can have is one who not only knows what to do in the event of an emergency, but knows how to prevent most emergencies from occurring in the first place. What kind of buddy is this? A PADI Rescue Diver.
The rescue course gives you these skills plus increases your confidence in your own abilities. It enables you to serve as a safety diver for a wide variety of diving activities, including diver training. The course is scheduled over three days and will give you the skills and confidence to handle emergency situations underwater.
"Enjoyable and Fun" is the way most divers describe this class after completion.
This is the first serious step on the way to becoming a PADI Divemaster!
Please Note
To become a PADI Rescue Diver you must have a recognized CPR certificate. Generally, students take the PADI Emergency First Response (EFR) at the same time as their Rescue Diver Course. The EFR course is just one day.
Cost RM950.00

back to top
---


PADI Master Scuba Diver
Reach to the top of your sport--the diver level unrivaled in the recreational ranks: PADI MASTER SCUBA DIVER!
This certification denotes that you have reach the highest recreational diver level in the PADI system of diver education.
To put yourself on top and reach Master Scuba Diver level you

need to be at least 15 years of age. If you're just starting your first scuba class, or if you've been diving for years, the Master Scuba Diver rating is the ultimate goal for all divers. In fact, as soon as you start your Open Water course you are working on your Master Scuba Diver rating! While you are progressing through the Advanced, Rescue, and Specialty courses you are also completing key portions of the Master program. This is the highest non-professional rating in Scuba diving and one of the most exciting and rewarding programs around.
Contact us for info on MASTER SCUBA DIVER RATING

back to top
Home | Instructors | Dive Courses | Dive sites | Go Pro | Equipment | Fish ID | News & events | Photo Gallery | Dive trips | PADI Tec-Rec | Resources