Scuba Diving Malaysia-Pulau Lang Tengah
Pulau Lang Tengah is located in between Pulau Perhentian and Pulau Redang on the East Coast of Peninsula Malaysia. Translated from Bahasa Malaysia, Pulau Lang Tengah literally means "an eagle resting on the middle island" which sort of explains its location. This away from it all island has a number of beautiful resorts and is fast gaining popularity as a diver's haven.
Favorite Dives: Batu Kuching
This site got its name from a squarish boulder perched on top of other boulders that resembles a cat. The boulder terrain plunges down to about 20 meters where sea whips are dominant. Good place to see glass sweepers, wrasses, butterfly fish and snappers.
Terembu Kuning
This site is a rocky outcrop sloping down to the seabed at about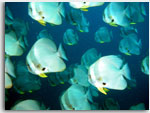 20 meters. Hard corals dominated the seascape providing refuge for groupers, barramundi cods and nurse sharks. Pelagics such as batfish, jacks and fusiliers swims about in the blue water.
Tanjung Nibong Laut
Angular shape rock bottoms out at about 25 meters. Located on the tip of the island, this site is usually swept by currents that attract pelagic such as barracudas, jacks and if you are lucky the whale shark. At the coral garden, reef fishes such as butterfly fish, wrasses, rabbit fish and turtles can be observed.

Next Pulau Tenggol
Dive sites around Malaysia :[ Sipadan island ][ Mabul ] [ Kapalai ] [Redang Island ] [ Tioman island ] [ Lankayan ] [Semporna island] [ Pulau Dayang/Aur ] [ Tenggol island ] [ Jarak Island ] [ Pulau Langkawi ] [ Layang-Layang ] [ Pulau Kapas ] [ Lang Tengah ]
For more information contact us
Home | Instructors | Dive Courses | Dive sites | Go Pro | Equipment | Fish ID | News & events | Photo Gallery | Dive trips | PADI Tec-Rec | Resources