Scuba Diving Malaysia-PADI Enriched Air (Nitrox)

The latest way to safely give you more time underwater is Enriched air. Better known as NITROX, this higher oxygen mix of diving gas can make you feel less fatigued and load less nitrogen while, in some cases, significantly increasing your bottom time.
Why PADI Enriched Air Diver?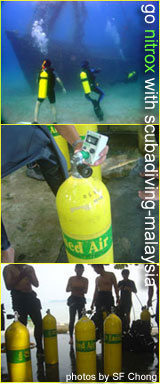 Maximize your time with the upgraded PADI Enriched Air Diver course. Enriched Air Diver saves you time by allowing you to:
• Stay underwater longer
• Get back into the water sooner
• Get your certification while simultaneously completing dives for other PADI courses, Plus, by diving with Enriched Air you may feel less tired on your dive trips.
What do I need to start?
All you need is your open water diver certification. (You must be 15 years of age or older).
What will I do?
You will learn preparation and diving procedures involved with enriched air diving.
How soon can I be diving on enriched air?
Just a mini workshop and a couple dives and you'll be on your way.
• Recommended Course Hours: 12
• Minimum Open Water Training: two dives over one day
What will I need?
You'll need your PADI Enriched Air Crew-Pak, which includes an Enriched Air 32 percent Table, Enriched Air 36 percent Table and Equivalent Air Depth/Oxygen Exposure Table.
Where can I go from here?
You can apply this Specialty course towards your Master Scuba Diver certification. You also need the PADI Enriched Diver certification if you intend to move into technical diving.
Sign up today!
If you want to stay underwater longer, contact us and tell us you're interested in the PADI Enriched Air Diver Specialty course.
The PADI Enriched Air Diver course will keep you where you want to be…underwater.
For more information contact us
Home | Instructors | Dive Courses | Dive sites | Go Pro | Equipment | Fish ID | News & events | Photo Gallery | Dive trips | PADI Tec-Rec | Resources