Scuba Diving Malaysia-Pulau Aur / Dayang
Pulau Aur and Dayang Island (peninsular Malaysia) The Marine Parks of Johor have two distinct regions, the inshore islands are Pulau Rawa, Pulau Babi Hujung, Pulau Babi Tengah, Pulau Babi Besar, Pulau Tinggi, Pulau Mentinggi and Pulau Sibu.Offshore, 65km east of Mersing, Pulau Aur, and the three smaller islands of Pulau Dayang, Pulau Lang and Pulau Pinang, together with Pulau Pemanggil, which is 15km northwest of Pulau Aur, make up the rest of the Johor Marine Park.
Pulau Aur and Pulau Dayang are two islands in close proximity

of sites to dive, from deep trenchers to shallow reefs. Most noted for its pelagic sightings Aur and Dayang have been the site of many sightings of whale shark and manta Ray.

Diving ranges from rock boulders and submerged reefs to wrecks. The channel between Aur and Dayang is rich with coral reefs in relatively shallow waters. You also have a unique opportunity to dive on a wreck just off the shore of Dayang. Pulau Pinang a rocky area, has steep drop-offs that provide shelter to giant stingrays, groupers, large schools of barracudas, and sometimes Manta Rays or whale sharks.
Favorite Dives: Rayner's Rock. A large boulder breaking the surface at about 4 meters high. Diving is good around the eastern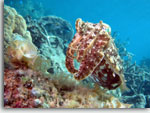 portion with a mixture of both hard and soft corals providing shelter for a profusion of marine life. You can expect to encounter schooling yellowtails, rainbow-runners, trevallies and closer to the reef, groupers, damsels, butterfly fish, scorpion fish and lots of cuttle-fish.
Pinnacles. This submerged reef is located towards the south of Pulau Aur. The top of the reef begins at about 12 meters and sloped in excess of 25 meters. If dived under the right circumstances with slight currents, a large number of pelagic circumstances with slight currents, a large number of pelagic including jacks, fusiliers, barracudas and black tip shark can be sighted. Among the hard corals and scattered soft corals are wrasses, pufferfish, damsels, lionfish and snappers.

Next Pulau Langkawi
Dive sites around Malaysia :[ Sipadan island ][ Mabul ] [ Kapalai ] [Redang Island ] [ Tioman island ] [ Lankayan ] [Semporna island] [ Pulau Dayang/Aur ] [ Tenggol island ] [ Jarak Island ] [ Pulau Langkawi ] [ Layang-Layang ] [ Pulau Kapas ] [ Lang Tengah ]
For more information contact us
Home | Instructors | Dive Courses | Dive sites | Go Pro | Equipment | Fish ID | News & events | Photo Gallery | Dive trips | PADI Tec-Rec | Resources