Scuba Diving Malaysia-Pulau Langkawi
Pulau Payar is located south east of Langkawi and north of Penang Island. No form of accommodation is available on the island and only the marine park center occupies its solitary beach. Strict conservation laws enforced by marine park rangers around the island have resulted in prolific marine life. Although at times the plankton rich waters can reduce visibility the abundance of fishes makes up for it. Jacks, Fusiliers, black tip sharks, barracudas and giant groupers are sighted on a regular basis. Coral life is a mixture of hard and soft corals.
Favorite Dives : Grouper Farm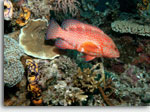 suitably named, this site is located towards the southern end of Pulau Payar and is home to small schooling fishes nervously darting about due to the presence of numerous huge groupers. Seascape is mainly hard corals slopping down to about 15 meters.
Pulau Kaca
Situated towards the east of Pulau Payar are some easy wreck diving sites. Dozens of sunken fishing trawlers are found around Pulau Kaca creating an artificial reef. Depth is about 18 meters which makes it an easily accessible wreck to explore. Abundance of fish life, mollusks and nudibranchs can be found among the scattered vessels.
Pulau Segantang
This rocky outcrop is located 13 km towards the west of Pulau Payar. It features steep rocky terrain plunging into the sea to a sandy bottom at 20 meters. Nurse shark, barracudas and jacks are very common here. Lobsters, moral eels and mollusks are also commonly sighted here.

Next Semporna group of islands
Dive sites around Malaysia :[ Sipadan island ][ Mabul ] [ Kapalai ] [Redang Island ] [ Tioman island ] [ Lankayan ] [Semporna island] [ Pulau Dayang/Aur ] [ Tenggol island ] [ Jarak Island ] [ Pulau Langkawi ] [ Layang-Layang ] [ Pulau Kapas ] [ Lang Tengah ]
For more information contact us
Home | Instructors | Dive Courses | Dive sites | Go Pro | Equipment | Fish ID | News & events | Photo Gallery | Dive trips | PADI Tec-Rec | Resources