As a PADI Professional, you do things others only dream of.
Whether you work in a local dive center, at a resort, or on a live aboard dive boat, the adventure of a lifetime is yours for the taking.
Imagine a job where you actually look forward to heading off to work in the morning. Lead a life others fantasize about. Sailing into incredible sunsets could be the rule, not the exception, especially if you work in a tropical dive destination. The commute to work could be as easy as a ten-minute boat ride. Work now becomes an adventure in itself. While experiencing new cultures and lifestyles, you'll be surrounded by people who are always happy. When you take people diving all day - everyone's happy. It's not all fun and games in paradise, but the rewards are well worth the effort.
If you set your sights close to home and aspire to work at a local dive center, you teach people how to dive and guide trips to exotic dive destinations. There's a sense of pride sharing something you are passionate about. You help others enrich their own lives by experiencing the adventure of diving.
The possibility are endless as a PADI Professional...stop dreaming, you can do it! [PADI chart]
[ PADI Divemaster ] [ PADI Instructor level programs ]
---

Be the best you can be...be a PADI Divemaster!
This is the first professional level in scuba diving training. This course will take you to the peak of individual diving performance. Not only will your skills be polished to perfection but organizational and leadership skills will also be developed. In addition, your general diving knowledge will be expanded to a very high level. An internship in which you assist instructors in actual training in the pool or confined water and at dive sites will round out your Divemaster training experience.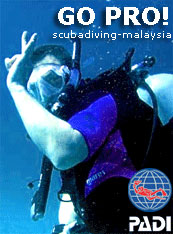 Your professional dive training leads you through a series of teaching and learning experience programs. It's a challenging road, but the rewards are innumerable. After completion, you will be ready to work as a PADI professional, go on to become a PADI instructor, or simply enjoy your newly acquired training and extensive dive knowledge.
Less than one diver in a hundred becomes a PADI Divemaster, one of the most respected ratings in the diving community. Do you think you could be the one? Take the plunge now!
The PADI Divemaster denotes you as a person:
Has high level of personal diving skill

Has instructor level knowledge of diving theory

Has had significant training in how to assist an instructor during training

Is able to assume appropriate responsibility that benefit the welfare of other divers
As you may know, many PADI Divemasters go on to become PADI Instructors. So, the training and experience you gain through the PADI Divemaster program helps shape your abilities and attitude toward becoming a professional level diving educator.
Our DM course involves developing your knowledge of dive theory,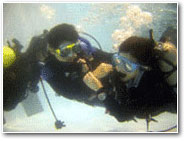 assisting on a dive courses, to develop control and problem-solving of diving activities; guiding tours and working on customer relations.
As an optional extra, the Divemaster candidate, once certified, is eligible to enroll in the EFRI Course and be certified to teach EFR courses. The Insured Divemaster may also teach and certify PADI Skin Divers and conduct the PADI Discover snorkeling program, as well as conduct the scuba review program for certified divers.
For those on a faster track of time we also offer an option which covers the same information as the internship, but a little more condensed. This can be completed in fourteen to twenty days. You need PADI Rescue Diver certification, or equivalent, and twenty logged dives to begin you Divemaster training. contact us for more details.
Cost RM1500.00 exclude PADI Materials. Please contact us for more details. We are here to assist you in your goal to become a PADI Divemaster.
---
Note: Our Instructor level courses in association with Dive Asia PADI 5 Star Instructor Development Center S-3173

The PADI Assistant Instructor Course is designed to provide PADI Divemasters, or those qualified to leadership levels with other agencies, with additional training as instructors and dive educators. The course builds on the abilities to organize and supervise dive activities while concentrating on developing teaching skills and teaching PADI programs.

The AI can also teach all classroom theory of any PADI Diver

course, conduct, the Discover Scuba Diving experience and conduct the PADI Seal Team AquaMissions, as well as teach and certify students in PADI Peak Performance and the Buoyancy Specialty Diver under the direction of an Instructor.
It is great preparation for the Instructor Development Course, earning you credit towards instructor level training. The course can be completed in as little as five days. Once certified, the AI is eligible to enroll in and become a certified EFRI and non-diving specialties or continue to OWSI program.
For full details of course requirements, please email us.
---

As you complete your Divemaster & Assistant Instructor Courses (AI) it's time to prepare for your IDC. Working within the dive industry is one of the most rewarding careers, offering opportunities to meet new people and work all over the world!

The PADI Emergency First Responder Instructor Course is hands on approach to CPR, Basic First Aid and how to recognize, and deal with diving related incidents. The course prepares Instructors to organize market, promote and teach the PADI Emergency First Responder course for recreational Scuba divers, especially those divers who need it to be certified as a PADI Rescue Diver.

After becoming a PADI Open Water Scuba Instructor (OWSI) you'll want to teach divers specific types of diving dependant to what your local area offers. To do this you need to be able to teach PADI Specialties. By doing so you can heighten your students' comfort level and strengthening their underwater skills, ultimately leading to their enjoyment of diving more than ever before.

If you want to train your dive students to the highest purely recreational dive level in the PADI System of diver education, you'll want to be a PADI Master Scuba Diver Trainer. By attaining this level, your dive students will know where to come when they want to learn from an expert. After the completion of the IDC you have an opportunity to achieve the rating (MSDT), Master Scuba Diver Trainer through an internship program.

PADI IDC Staff Instructors are PADI Instructors moving towards instructor-level training or teaching the Instructor Development Course (IDC). IDC Staff Instructors can independently train and certify PADI Assistant Instructors as well as help train PADI Open Water Scuba Instructors.

Back to top
For more information contact us
Home | Instructors | Dive Courses | Dive sites | Go Pro | Equipment | Fish ID | News & events | Photo Gallery | Dive trips | PADI Tec-Rec | Resources